Ammunition problem.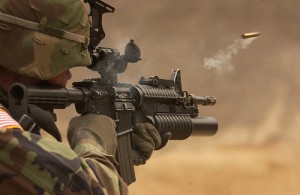 In today's article, I would like to address the issue of sudden loss,,power "by weapons - ie. lack of ammunition or inability to quickly change magazines, or their recharges forced by the actions of the enemy, uncomfortable position, or other broadly understood tactical situation. What to do when a sudden situation of an unexpected encounter, which can often take place in CQB operations, especially in urbanized areas, will throw us into the hands of a determined Taliban, or a mongola made of spetsnaz, and we will have that bad luck and empty gun in our hands? Please visualize the situation, in which there is no time to reach for a spare weapon unit, which a pistol is usually carried in a thigh holster, or taking an assault knife to stab the enemy with it ...
In units, in which I performed my service, great importance was attached to the operation of weapons according to the so-called. Israeli school - quick frontal attitudes, semi-frontal , doublet shots fired at close range, shooting after the run-in with ,,stamping out "speed. Dynamic changes of magazines, using weapons in emergency situations (when we are injured). Shooting as part of VIP protection, from behind the curtains, with changes of direction, in a group, etc., etc.. ALE NIGDY do używania broni w walce wręcz!
All in all, now the black tactic is absorbed even by groups of bastards, scouts, ASG, or any other similar ointment ,,Sunday warriors "It is an ordinary form of physical recreation in the open air and has long ceased to be a taboo subject. What can only frighten me is the fact that you ,,Sunday warriors "are sometimes of a much higher level than regular units) Happiness is only that, that they treat their profession as fun and hit each other with plastic balls, or from such coloring - and approx. I'm amazed, that they learned so. Still in the direction of concrete decision-makers, the question is - should the Polish state somehow direct and use their enthusiasm to increase its combat potential???? But you know ... Also coming back to the topic - of course you have to be able to use your weapons as a tool for stabbing, strokes, curtains, but not like in the proverbial ,,Weapon bayonet "- only to remove the threat from you for the time needed to reload the ammunition and shoot. Trzeba ćwiczyć takie scenariusze tylko w realu, in narrow spaces, in poor lighting, without ready-made scenarios and assumptions, that so many are killed and the commandos always come back ... Even in Poland, we already have experience, that's not true. So it needs to be completely changed. Trening oparty wyłącznie o wiarę w swoje możliwości strzeleckie w moim rozumieniu wypacza mentalnie operatorów i skazuje ich na krótko mówiąc – rozłupanie łba ruską łopatą saperską, in a situation where a Glock or M-foursome jammed, and the enemy will sit on us. I do not know why no one in Poland expands these training methods by a few more hours and does not include techniques of inflicting a rifle or pistol barrel with straight blows in the face, throat, eyes; strokes the butt in the temples, occipital part of the skull, in the neck, whether ,,on the paws "when someone wants to grab a gun ... I saw an example, that Jewish soldiers have it as standard and it is a normal training regime for them along with the entire methodology of using firearms. The gear manufacturing industry is also reaching out to such solutions - because there is a whole lot ,,mnożników siły" w postaci latarek z naciętymi zębami na koronkach do montażu na szynach akcesoryjnych. Ba, there are even mini bayonets for pistols, but when my friend once brought such a miracle to training under the Czech CZetke, everyone was overcome with empty laughter and nothing more. (concrete - that's what people think in Poland!) They didn't even make an effort to check how toto works, they just denied it in advance - and they made a mistake, because believe me, I stayed and checked it - it worked very well. I would NEVER want to be in the place of a delinquent treated with such a mini-bayonet. Therefore, it is not worthwhile to consider yourself a professional, but to tighten yourself, because you can die from it later!! LITERALLY ... That's why I tell all gun users directly - what do you care? You train anyway. So, learn a few of these simple techniques and be able to hit them with a gun, when ammunition runs out ...