Traversing considerable off-road distances on foot, in addition with a load, definitely different from walking around the city. In a group, the walking pace must be adjusted to the capacity of the slowest walker. Before you go out in the field, you should prepare a plan and equipment in detail and determine the route. It is best to stop at the beginning of the trip 10 minutes, to improve socks, boots, clothes or backpack, and check the route direction and form of all participants. Then equal should be imposed, not too strenuous pace and slow down when overcoming obstacles, for example elevations.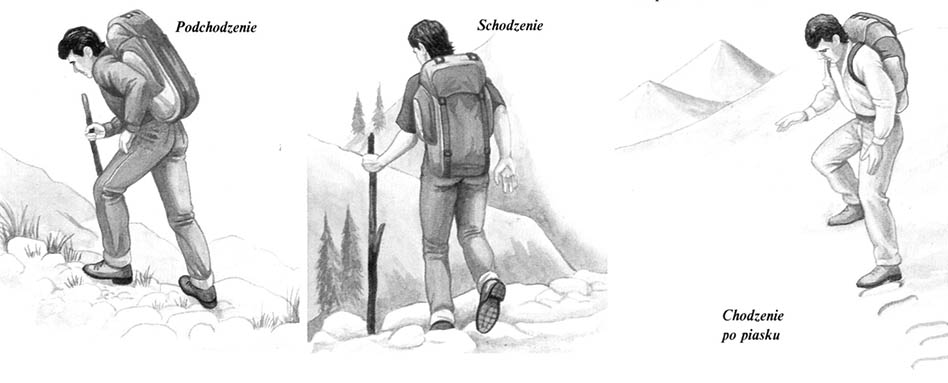 WALKING TECHNIQUE
Walk steadily, not too fast. Wave it, but not very vigorously, arms, to keep momentum and balance easier.
Try to stand up and extend your legs effortlessly. Keep equal, not too strenuous pace, you can walk for quite a long time without getting out of breath or straining your strength. Make regular stops, using them to rest and check your inventory.
Approach
Take smaller steps when going uphill, keeping the same rhythm. Lean forward and remember, to put my feet on the ground.
Descent
As you descend, lengthen your stride and lean back slightly. Try not to go faster. While descending, the knee joints are under a lot of strain, especially when carrying a large backpack.
Walking on sand
When walking on soft, sagging sand, slowly put your feet up, trying to distribute the weight as evenly as possible. When approaching sideways, you avoid burying the tops of your shoes.
If you go in a larger group, you should send a few better walkers for reconnaissance, who will check, where is the next road?, recognize the difficulties and the possibilities of avoiding obstacles. The same people may go faster again at the end of the route, to find a suitable place to camp, pitch tents or build huts, bring water and light a fire. However, it should always be remembered, that there are a few able-bodied people with the main group, who can take care of the weaker, sick or injured.
The group should stay together during the march, except for a few able-bodied walkers, who should do a reconnaissance, especially when it is unknown terrain. Children and vulnerable people should never be left behind. The leader should keep a steady and not too strenuous pace, so that each group member can keep it.
Children should not run ahead of the group, nor drag foot by foot far behind.
The pace of the group's march must be adapted to the capacity of the slowest members
Each weak or sick person should be accompanied by one fully able person. These two have to go in the middle of the group, so that at some point she does not stay behind
The handler must walk steadily and not too quickly. After passing the obstacle, he should stop waiting for others.