RAK submachine gun.
There are situations, in which you have to kill up close, up close - looking straight into enemy's surprised eyes, feeling his fear, his helpless will to save his life, which we take from him ...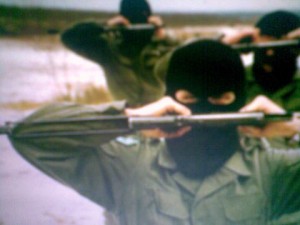 During the Second World War, pistols were generally used for liquidation, sometimes a dagger.. This is a thing of the past - but what if the target is insured by several bodyguards, moves quickly? Then a particularly lethal weapon is needed, with great intensity of fire, arousing panic, powered by a destructive cartridge, and at the same time with small dimensions, easy to carry ,,under the clothes ", perfect for direct action, in a diversion, sabotage and ,,mokrej robocie" Polskim konstruktorom udało się to znakomicie – ich dzieło nazwano Ręcznym Automatem Komandosów – w skrócie RAK. Opracowany przez wybitnego polskiego konstruktora broni Piotr Wilniewczyc u schyłku lat 50-tych, officially accepted for service in 1963, it was at that time a very innovative and bold design in the solutions used in it. It is enough to mention here a two-resistance trigger which is also a fire selection selector, open lock, being the top of the weapon, very short length (folded only 33cm) and light weight (1,60kg-without ammunition), a recoil weakener that enables reloading in an emergency. The weapon is fed from box magazines that are inserted into the grip of the weapon, of a capacity 15, 25 rounds shoots a 9mm makarowa round with a rate of fire 650 shots / min. It has minimal recoil - the projectiles give good focus, the series fired at a distance of 50 m forms a 50 cm circle. Tunneled missiles with a muzzle velocity low for the PM * (ok. 310-320m/s) they destroy effectively, making big holes in the body. Our PM has become an object of desire - it could be found in the hands of Vietnamese VC partisans, fighters, or if you prefer terrorists with ,,Black September ". Until the end of his days, Cancer was carried by the Palestinian leader Yaser Arafat. W 1980 roku zespół SAS odbijający z rąk terrorystów ambasadę Iranu w Londynie ujawnił PM-63 przy ciałach dwóch z pięciu zabitych przeciwników, bah - not much of that, our PM has a license-free copy made in China, where it is probably produced until today. In Poland, it has already been withdrawn from the state of arms, replaced with PM 84, 98 Glauberite - in relation to the latter, RAKA was characterized by a much better quality of workmanship.
Currently available for purchase in some stores as early as 550 PLN - it's very little for such a legend.
PM * - submachine gun