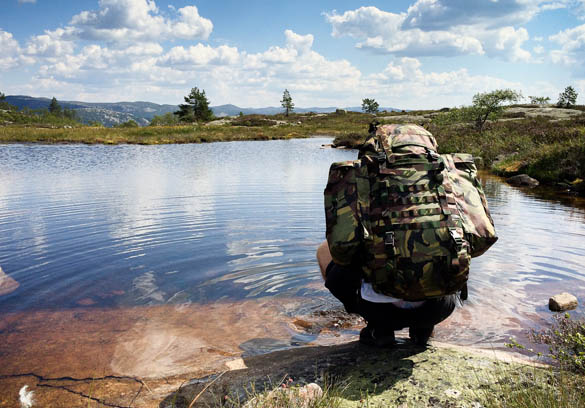 On the trail, even on a well-prepared expedition, many surprises and dangerous adventures can happen. If your hike through unknown terrain was caused by an accident, then the risk of encountering obstacles increases. Be well prepared before you set off, think over your itinerary carefully. In the event of an accident, it's best to stay there. Sometimes, however, you need to move the camp or change the stopping place; it may be related to the threat from wild animals or a natural disaster – flood or forest fire. Before leaving the bivouac, carefully check the map of the area, through which you will wander.
Flood – It destroys the vegetation in the flooded area and leaves a thick layer of silt on it. This makes it difficult to search for edible plants and dry wood needed to build a shelter or light a fire.
LEADING THE GROUP
Group of people, who traveled together in an unknown area, should choose a guide. He is primarily responsible for the proper planning of the trip, taking into account the possibilities of individual members of the group. The leader should learn about the strengths and weaknesses of all companions of the expedition. Follow-up actions should be decided according to the possibilities of the whole group. Leading a group of people is a very difficult and responsible function, especially when human life is at stake. It can be even more difficult, if there are people in the group who are not very subordinated.
Cooperation – The group has the best chance of survival, if she stuck together. Good group interaction depends primarily on a responsible guide. The guide should observe participants and see signs of depression in some and try to activate everyone in the joint struggle for survival Older people are more likely to suffer from heart attacks or other diseases, however, they can also prove to be the bravest members of the group. Mothers with children are usually very brave, however, they require loving care. People who are injured and not fully fit may delay the hike, this should be taken into account before setting off, so as not to expose everyone to additional danger. Some people may be inappropriately dressed – lack of good footwear.