SIG SAUER P226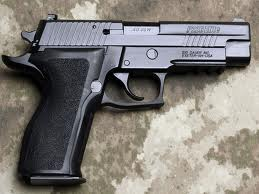 The pistol participated in the competition for a new US Army legal short firearm, however, the competition was won by the Italian Beretta 92F, which, let's face it, was much cheaper ... Sig did not completely disappear from the stage, however, because it is still used with great satisfaction by elite units such as the US Navy SEAL, or the renowned and internationally recognized British SAS. In policemen's holsters, agents, and in private hands, we will also find more than one Sig P226, or its compact version - P228 / 229. User reviews around the world are very favorable. I have not yet seen anyone who unequivocally crossed this gun in favor of another. Of course, there are many comparisons and not everyone is the best with the Sig, but the overall design cannot be underestimated. Since we sweeten this way, let's talk a little about these advantages.
Convenient, although maybe not a super modern grip is what I like about the P226 (and of course several related models). The handle does not look as fabulous as in the Walther P99, the HK P30, but it is by no means bad, uncomfortable grip. The Sig-Sauer SA / DA system is quite specific - not everyone likes it. The gun has no fuses, and only the tap release, thanks to which the first shot can be self-cocking. Have to admit, that if we want to carry a weapon ready to fire all the time - such a solution, as well as the automatic firing pin lock - they give us such an opportunity. However, not everyone is used to a gun that requires a different amount of pressure on the trigger between the first, and with each subsequent shot. The difference is felt. If we mention the de-cocker, it should be added, that it is very comfortable to use, even intuitively, it is located on the side - on the skeleton, adjacent to the equally convenient lock lever. The tap is released in a rather interesting 2-stage manner, it's a good idea for security reasons. The weapon is nice in my opinion, clear line, and legible sights - it does not look blocky, can be seen, that the whole thing is very well thought out. The manufacturer gives us a choice between three different calibers - 9 × 19 PARA, .40 S&W, and .357 SAY. In the first case, the weapon is fed from a double-row magazine with a capacity of 15 cartridges, in the second and third cases with a capacity 12. There are also special conversions for side ignition. If we are thinking about buying a Sig for personal defense, the choice of ammunition will be crucial for us. Knowing the Polish reality and the special ammunition market 9 COUPLE will not be a bad choice, .40 S&W actually has more refuting power, but getting the right ammunition in this caliber is very difficult. And if we get any ammunition .357 SAY (not necessarily HP's) we should kiss the seller's hands ... You have to remember, That 9 money gives us 15 stock items in the magazine, a .40, and .375 SIG - 12. Here, for some, an additional argument towards the 9 × 19 may be the magazine capacity. However, I do not advise you to stress about it, 12 cartridges + one ready to launch it 2 times more than in an average revolver - and as we know, 6 shotguns also do their job well. Nevertheless, it is always worth carrying this additional magazine, if someone has a need - 2, if you are going to war you better get something tape powered.
Let's go back to the price of the P226 - yes, she is tall, in Polish stores (if available at all) varies in the vicinity 5,5-6 PLN thousand. Taking into account the current dollar exchange rate and prices on the US Sig-Sauer site, the most basic model behind 993 dollars, costs after conversion and rounding 3.100 zlotys, of course I did not add any fees, but the order price 6 thousand, compared to the price 3 thousands is a price twice ... higher!
Now is the time for some summary. My opinion is this, that if we're good at shooting Sig and we need that weapon, because it just suits us ... (especially when it comes to defense targets), we should get it, for me, this is a weapon that fires excellently for me, for others, HK USP may be great, or some henless, which will be several times cheaper and also fulfill its task. The main problem is the personal preferences of each user.