Tatar sauce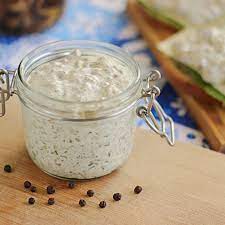 Tartar sauce is a very universal dish
and should be on every table
with cold snacks, it fits
for stuffed fish, fish in jelly,
hard-boiled eggs, and also you can with taste
eat a ham with tartar sauce.
The basis is, of course, mayonnaise.
That it would have a beautiful color, I add it
a pinch of turmeric and two pinches of curry in it.
Some people add a teaspoon of mustard,
then the sauce is hotter.
I hard boil two eggs and chop them finely.
Then I peel two pickled cucumbers
and I also chop them very finely.
Another ingredient, it's pickled mushrooms -
can also be pickled mushrooms.
And finally, very fine
I am chopping parsley.
I gently mix all the ingredients and the sauce is ready.
Delicious tartar sauce is then,
when the base is made of mayonnaise
handmade from egg yolks and olives.