Red borscht.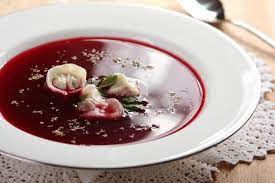 This is my beloved and signature soup.
Red borscht in my version
it has the color of red wine and tastes like ...
Try it yourself.
I buy medium-sized beets,
because it seems to me, that these are the tastiest.
Clean, I peel and cut into slices.
I pour cold water,
not more than five cm above the beet,
I put a handful of caraway seeds,
a handful of raisins,
I throw in a stock cube and a spoon of butter,
I add pepper, I cover with a lid
and leave it over low heat
at least an hour and a half.
Then, if I have beetroot leaven
I acidify the borscht with it,
and if I don't have, then I pour a small amount of vinegar.
You can also acidify the borscht with lemon juice.
I prefer vinegar though.
I serve this borscht with mashed potatoes
or with patties
or pancakes with meat.
Pride!