Dumplings with cabbage and mushrooms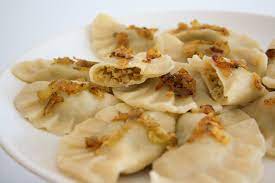 Dumplings with cabbage and mushrooms
it's a Christmas Eve dish, but it tastes great
also on ordinary days.
First, we make the stuffing:
soaked mushrooms (preferably boletus)
we stew, until they are soft.
In the second pot, stew the sauerkraut
in water with the addition of oil.
After it has cooled down, use a sharp knife to cut the mushrooms and cabbage
– Blend the counterfeit cabbage and mushrooms together,
salt and pepper to taste.
And now the cake!
Pour the sifted flour onto the board,
we make a dimple in it, in which
Pour hot water and a tablespoon of oil in small portions.
We combine these ingredients by first chopping
with a large knife, and then you have to
knead the dough with your hands.
Until now, until we feel,
that the dough is smooth
-then we start rolling.
You cannot roll the dough too thinly,
because then I will crack the dumplings while cooking.
Glass, or a special funnel,
we punch out circles, on which we put the stuffing,
we stick the ends (very exactly,
leaving no cracks)
and throw it into boiling salted water.
You can make a special form for dumplings
crush the already glued edges of the dumplings,
then we have more guarantee,
that they won't come apart.
When they come out, fish out with a slotted spoon
and put it on a platter.
Brush each dumpling gently with oil,
or butter, so that they do not stick together.
Can be served with water, or fry it in a pan
- even more delicious.