Pistol and revolver holsters.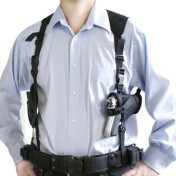 As we all know very well, the rifle can even be carried on a string, because he is not afraid of it ,,stepmother "treatment. Regardless of the specific conditions in which we use a long weapon - it is always exposed to external factors, tj. temperature, moisture, sand, mud, bride; several years of use cycle causes, that there are no unbroken rifles, not rubbed off the oxida, or without scratches and scratches.It is different with ,,best friend", that is, a pistol or a revolver. A holster is needed for safe carrying, and this is where the stairs often begin, because it is often not very clear which product to choose, from an ocean of offers offered to us users, by hundreds of global companies - manufacturers of gear. Let me advise you on the criteria for making purchases.
1) Choice of materials, which the holster is made of. Tu wyróżniamy nową generację kabur sztywnych wykonanych z nowoczesnych tworzyw sztucznych (Kydex, Securex), profiled for a specific weapon model. These holsters guarantee us the certainty of holding the weapon, speed of its drawing, and they do not need any maintenance. The disadvantages are the faster wear of the coatings covering the weapon, tearing off sights; some of these types of holsters during more intense tactical activities, they can clatter and make noise, exposing the shooter. The fact is also important ,,bulky "of their shapes, przez co kierowane są raczej do odbiorców oficjalnych – jak służby mundurowe, whose representatives do not have to worry about the details of the type: ,,I think you can see a jacket from under the jackets, because everyone on the bus is looking at me weird ". The leading manufacturers of this type of holster are the Israeli Fobus, and the American SAFARIL. Also the arms manufacturers themselves (Glock), offer holsters of their own production. The second group are soft holsters, made of traditional materials, tj. skin, cordura - they basically guarantee all this, what stiff holsters do not give, their disadvantages are lower strength, the need for constant checks for damage and frequent maintenance. Holsters of this type are not resistant to weather conditions in the long run, temperature and humidity. You just have to take care of them, for which there is usually no time in uniformed services. Preferred recipient - civilians. Leading producers are American Uncle Mike, Bianchi, and the Warsaw "Kajman" - heir to the famous ANIN base; old shooters - my age, Until now, the tear in the eye will spin in the memory of the quality of those products ...
2) Choosing a holster according to its purpose ...
Each user should choose such a holster, that it would be a guarantee of the quick drawing of weapons from it and protect it against loss and external factors. Generalnie stosujemy tu podział na kabury Open – nie posiadające patki materiału całkowicie zasłaniającej broń i gwarantujące jej szybkie dobycie, oraz kabury closed – od góry chroniące dobrze broń przed zaborem, lost, or damage, but therefore slow to draw and bulky. We also classify holsters in terms of their location on the user and distinguish them here:
– Thigh - mounted on the leg, usually on two horizontal risers and attached to a tactical belt with the third vertical one. These holsters, apart from the advantages of the speed of drawing a weapon, they have a whole lot of flaws, tj: lack of proper gun control. (especially when crawling, staying in tight places, crowded) These holsters make it difficult to run smoothly, they are clingy to external elements - they are dedicated primarily to commandos from police units and escorts.
– Universal, fastened on the belt - they are the largest group of holsters, transferred on the dominant side of a given user. They guarantee quick selection of weapons (the natural tendency to keep the hands along the body) (forced angular retention of the weapon), while maintaining better control of the weapon. Preferred recipient - patrol and intervention services, protective, preventive, civilian users.
– Holsters carried on tactical vests - they are a perfect solution for people using weapons in tight spaces, or long-term transmission of it. Positioned horizontally at the height of the user's chest on the non-dominant side, guarantee quick selection, and constant visual observation. The drawback is the fact that you have to crawl - then the use is much more difficult, the recipients are generally services responsible for anti-terrorist security of airports, where often during assault operations in hijacked aircraft, officers are equipped with two pistols, the latter is then carried in a holster on a tactical vest.
– Holsters carried on shoulder straps, on the non-dominant side - horizontally located holster, or vertically to be carried hidden under clothing - these holsters do not guarantee a quick draw, the harness should be made of webbing, not rubber. Beware of unknown manufacturers. Intended recipient - operational officers ,,in civil law ", civilian users of weapons.
– Holsters, the so-called. ,,backup", przeznaczone do przenoszenia małej broni zapasowej. They are usually located in unusual places, e.g.. on the calf under the pants. Especially popular in the USA, where superiors do not pose problems of the type to police officers: ,,why do you need two guns, what are you rambo?"In total, usable by anyone with two weapons. Of course, using this type of holster requires learning new habits in the field of drawing weapons, and ,,learning to walk "with weapons carried in this way.
– Holsters located in the so-called. in their construction, they resemble the popular hip sachets, probably used in our country by everyone, after a short training session, carrying weapons like this, this is a great thing. The special design of such a bag enables the transport of weapons in a virtually unhindered manner, not causing unhealthy emotions, dedicated to operational activities and all users. In my opinion, the "Miwo" bag from Lubliniec is unrivaled - I am its user myself and I recommend this product.
To sum up, you have to visit a few shops and carry a holster - each of us is different and the choice of holster is a very individual thing., same as the type of weapon we carry in it.