Doves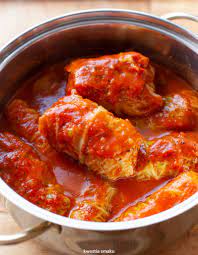 It is a wonderful dish, I think liked
by everyone, but still very laborious.
There are three stages to the preparation of lovebirds:
the first is to prepare the cabbage,
the second is to prepare the stuffing,
and the third is to put the stuffing in the cabbage leaves.
Savoy cabbage is best for cabbage rolls,
its leaves are much more flexible than the leaves
white cabbage and they have more interesting, a more bitter taste.
First, we brew all the cabbage, pouring boiling water over it
and leave it in that hot water for at least 10 minutes.
Meanwhile, we prepare the stuffing: rice, which
added to the minced meat should be semi-raw,
so we cook it for no longer than 7 minutes -
thanks to this, the cabbage rolls will have a compact consistency,
because the rice will swell during stewing.
We combine minced meat with rice, seasoning with salt,
pepper and a pinch of cinnamon.
Separating the leaves from the cabbage head requires patience and attention:
when it is well blended, leaves should come off easily
- put a heaped spoonful of stuffing on a cabbage leaf
and wrap the leaf, tucking the sides first,
covering the stuffing with them, and then rolling it.
Place the prepared cabbage rolls in a pot
with a little water and stew, until cabbage leaves
they will be soft - then the stuffed cabbage is really delicious,
when the cabbage is soft.
Traditionally and with good reason -
it really is a great flavor combination
- we serve cabbage rolls with tomato sauce.