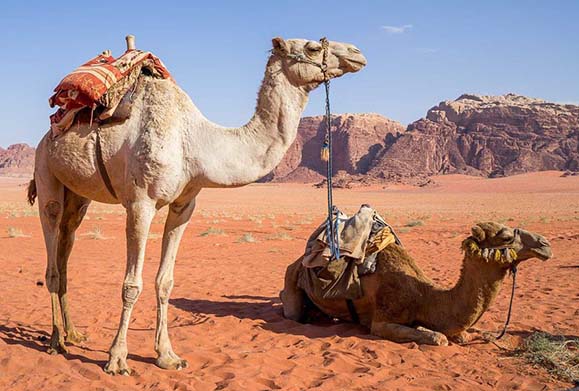 Living in the city, we treat bicycle trips, horseback riding or motorcycling as a pleasant form of recreation. In the field, these means of transport can help us move with the necessary equipment from place to place. You cannot drive too fast or overload neither vehicles nor animals. In any case, speed and load must be adapted to the capabilities of the respective means of transport. Sometimes it can mean, that the pace of the journey will be slower than that of the walker. Choosing a pack animal, bicycle or motorcycle, depends on the possibilities, type of terrain, planned travel time and baggage size.
PETS
Camels
The camel can carry approx 270 kg while traversing the wilderness at an equal pace. It works well in various terrains and endures extreme conditions - it can walk on snow, as well as hot sand. However, he can be malicious, difficult to drive.
Psy
A team of seven dogs can pull a sled with a load 270 kg keeping up the pace 32 km per day. The very hardy husky dogs do very well in the snow, and when pulling the sled they seem to be in their element. However, they must eat plenty of fresh meat, which increases the weight of the luggage.
Elephants
They are very strong, but they move slowly, so taking them on longer trips would often be pointless. They serve people best when performing specialized work, where their strength is used. One guardian should run them. It happens, that months must pass, before the elephant accepts the new master. Elephants also need huge amounts of food, which would have to be taken with you and transported on their backs next to our luggage.
The horses
They must have time to rest during the day, rest. You also have to stop at waterholes regularly. They can do it for several consecutive days after 80 km without slowing down. With cargo 90 kg are going at a pace 6 km per hour. Horses bred in mountainous regions are best suited for exhausting expeditions into the wild.
Care
You have to take care of the animals. Although they should not be treated as pets, it is their needs that must be met without fail. The animals should be fed and watered at the same times each day, and then follow them consistently. Any injuries should be treated immediately. After arriving at a resting or camping site, you should first take care of the animals, and then about myself. The fur of pack animals must be cleaned before being saddled and wrapped. No lumps of dirt can get under the saddlebag or saddle, because they could injure the animal. Elephants require daily water baths, so that their skin does not dry out, and in the sand, which drives away insects. Ungulates – mules or horses need to be scraped with a hoof every day. If these animals walk on dirt roads, should be shod. In addition to the animals mentioned above, llamas are also used for transport, oxen, What, donkeys, and even sheep.
Hair care
The animals should be cleaned regularly with a brush and a scraper. You have to watch while combing, there are no abrasions, scratches and wounds. Particular attention should be paid to the legs and hooves, observing the way the animal walks; when you get stuck or cut, you must respond immediately.