Yiddish caviar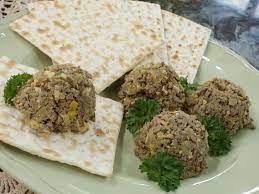 The Jewish caviar is proven in many places and very positively assessed by all gourmets.
The basis of this dish is the liver.
I recommend the poultry, because it is delicate in taste and easy to prepare.
First in the pan, on olive oil with a little butter, glaze the finely chopped onion.
Take the onion from the pan and put it into a bowl.
Pour another portion of the olive into the pan and throw the livers over the hot,
which we wash naturally beforehand, we dry and remove the veins.
We fry the livers briefly, at most 10 minutes.
At the end of frying, add a piece of butter and leave it to cool under the lid.
We cook hard 4 eggs. Let them cool and chop them finely.
Then chop the cooled livers. Add the onion and a large portion of chopped parsley.
Finally, salt it, we add a little pepper, a little cinnamon.
We honestly mix all the ingredients by hand - kneading like a dough.
Line a flat platter with lettuce leaves and on top
patiently arrange the balls formed from the obtained mass.
The beads should have a diameter of no more than 4 cm.
Really proud! I recommend!