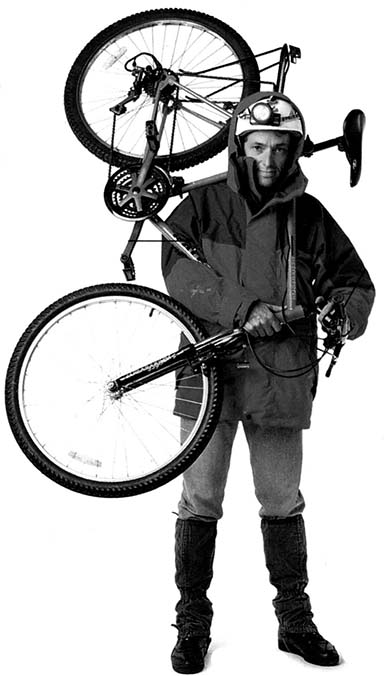 A mountain bike can be treated as an additional equipment for a walker, allowing him to move faster. In very difficult terrain, it is better to pack in a backpack than side bags hung on the trunk. It may turn out, that the loaded bicycle is too heavy and difficult to carry over the obstacle. When driving, keep a safe distance from other cyclists or road or path users. If you're going with a backpack, speed must not be developed, especially when going down a steep slope.
Universal vehicle
Mountain bikes work well in almost any terrain and conditions. But such a situation may arise, that you will have to carry him on your back, when climbing a steep slope or crossing a stream or mud.
Cycling equipment
You can put on practically anything on the bike. However, you have to remember, that the trouser legs are tucked into the gaiters, that they will not catch on the chain while pedaling. You should also always wear a helmet and goggles.
Put on a windbreaker jacket on top, Also keep a warm sweater handy, to impose it during rests.
Riding the bicycle with too much load may cause the wheels to center.
Gaiters prevent the legs from getting tangled in the chain and protect the legs from thorny vegetation.
You can put on regular sports or special shoes – cycling. Important, to fit the toe caps of the pedals.
Handbrakes must be strong enough, to support your weight with a full backpack.
PRACTICAL TIPS
■ You cannot take many spare parts with you, therefore better avoid crashes and damage to your bike on the trail.
■ If you already had to make a makeshift repair, then drive slowly and carefully, until you get to the place, in which you will get the necessary part.
■ You can use this wire to connect a broken chain or handbrake cables.
■ You can temporarily patch a hole in the tube with insulation tape.
■ If you lose the pump, you can stuff the tire with grass and drive like this, until you can inflate the wheel again.