Colt Pocket 1849.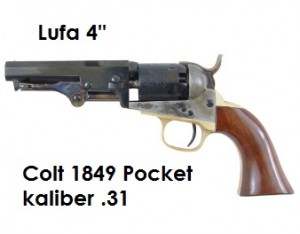 In year 1848 Samuel Colt unveiled the successor to Colt Walker, i.e. the Dragoon model.
Of course, both models were extremely successful and were successfully used by the US Army, but they were not the most successful in the market. Why? That's probably why, that how rich the civilian market appreciated handy weapons more, prepared for short range shooting, quick and convenient tapping, as well as hidden carrying - e.g.. in a small vest pocket.
In response to consumer needs, Colt decided to reduce the successful Dragoon design and adapt it to smaller caliber shells, this is how the 'pocket' Colt model was created 1848 Baby Dragon, and then 1849 Pocket in caliber .31 cala.
It turned out, that the demand for this revolver exceeded Colt's expectations - the weapon turned out to be perfect in self-defense, and as an additional, easy-to-carry support weapon.
In the era it provided security to gold prospectors, stagecoach passengers, saloon guests, gamblers, and also to all people, who felt no special need for weapons, but wanting to keep a kind of "ace up their sleeve" in case of emergency.
Pocket was not a particularly accurate revolver, but the distance at which he most often shot did not exceed a few meters and at such a distance it fulfilled its task, Certainly, it was inferior to the full-size caliber revolvers of the time .36, and especially .44, however, the projectile sent from his barrel still had enough energy to inflict a severe wound, and even death.
Colt's packs were not suitable for longer exchanges of fire ? most often they were equipped with a 5-chamber drum, of which sometimes one compartment was left empty in order to safely lower the tap. Still, they were a better solution than single-shot pistols, because they had the obvious advantage of multi-shot weapons, over single-shot weapons.