Greek-style fish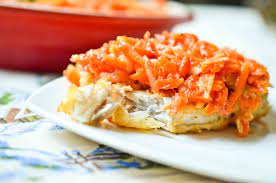 I really don't know, where does this name come from
and whether the Greeks really serve such a dish?
My Greek fish is dietary,
because - whenever possible -
I try to prepare dishes this way,
so as not to overburden the liver -
so I don't fry the fish, it only burns or souls her.
After making it and washing it thoroughly
salt the fish, I'm fucking, sprinkle with lemon juice,
I sprinkle with thyme
and leave it for some time.
And while the fish is baked, then I cool her down
and I start drawing the bones,
for any bone found in
this dish is threatening to boycott my son's dish.
And now vegetables.
If I have fresh tomatoes,
I peel it, I cut
and fry in olive oil with butter.
If I don't have tomatoes,
then I use concentrate, which one too
fry in olive oil with butter.
When the tomatoes turn into a kind of paste,
I add highlights on a grater:
carrot, parsley, taste
and finely chopped leek and chopped onion,
salt and pepper to taste, I add ground
cumin, some thyme and mixing it all
together in the pan the soul still with 15 minutes.
Then I put the pieces of fish in and heat it up,
if I want to serve it warm.
Instead of green parsley, you can add a squeaky spear,
which flavors this dish wonderfully.
Greek style fish is excellent too
cold, and the next day it tastes even better.