Paintball markers – HP or CO2.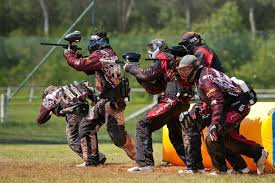 I don't think any of you have any doubts about this., that paintball in our country is becoming more and more popular, and it is certainly not yet the apogee of this hobby. Seems, that from month to month the game of paintball will gain popularity. Today, we can find playing fields not only in the open air., but also in large enclosed halls, where the gameplay is equally exciting. Playing paintball occasionally there is no need, to acquire equipment for ownership. Rather, it will only be an unnecessary expense, to which, of course, it is better not to expose yourself. However, you should keep in mind, that this game is so addictive, that we will not look back, and we will play it every week. Then it is worth thinking about professional equipment. In this post, let's focus on markers, which are of course the basic element of the paintball game. What paintball markers can the store with accessories for this game offer us?
Markers for compressed air.
Seems, that by far the best option to play paintball are compressed air markets, which are the least unreliable. Today, these types of paintball stores offer really many brands, for example, Dye, Bob Long, Dangerous Power, Planet Eclipse. They work in all conditions, although, of course, compressed air is necessary for this, with which there is sometimes a problem.
Markers for CO2.
Wanting to buy a paintball marker, stores can still offer us MARKERS for CO2. Is it a good solution? Only in part. Certainly not during a harsh winter, because frost can freeze the marker on CO2.