How to choose a short windbreaker?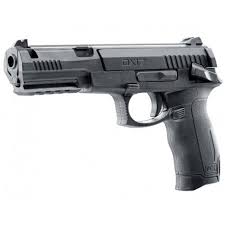 Short air rifle also known as an air rifle. It is a great alternative to spending free time outdoors. The choice of models available on the market is huge, A few tips below will help us choose the optimal short windbreaker for yourself.
Air rifle service.
If you value comfort and want the airgun to be able to fire several shots in a row without your intervention - choose a CO2 or PCP powered airgun. Spring powered air guns require us to stretch the spring before each shot. On the other hand, the PCA pump requires a specific amount of compressed air for each subsequent shot, which we have to "pump up" each time.
Form of use.
If we care about professional shooting training, we should choose airguns powered by compressed air (PCP i PCA). They are professionally made and ensure repeatable accuracy. If we need a short air rifle to shoot for recreational purposes, let's choose CO2 or spring drive. For recreational shooting, he personally prefers short CO2 air rifles equipped with a blow-back system consisting in a realistic movement of the bolt backwards at the time of firing a shot.
Budget for the purchase of an air rifle.
Here, the matter is as follows. Spring air rifles are the cheapest (120 – 600 zloty), CO2-powered airguns require a little more capital (150 – 1200 zloty). Air rifles based on compressed air are the most expensive. For PCA pushups, we will have to pay from 300 do 1500 zloty, while short PCP airguns are the minimum cost 1800 zloty.