Fish soup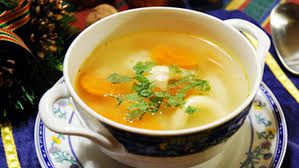 There are many Christmas Eve soups in our Polish tradition,
Tradition is different in almost every region.
So next to the mushroom soup or
Christmas borscht has its place
also fish soup.
We cook it on the head and fins of a carp,
or any other fish, which we bought whole
and intended for frying.
Put the fish in the pot
a lot of carrots, parsley and onion,
we add allspice,
pepper and bay leaf.
After it is cooked and strain the soup through a colander.
On a sieve, rub two hard-boiled eggs
and one cooked potato.
We put this pulp into the strained soup
and we mix all the ingredients.
Serve the fish soup with dumplings
- poured noodles are the best.