How to choose a good air rifle?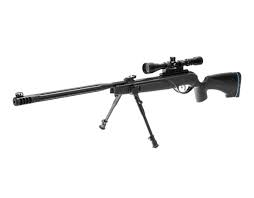 Most of us associate the air rifle with long weapons, a shotgun, then. However, it does not have to be a shotgun, because it might as well be an air rifle gun, which we will deal with in this post. Currently, there is no shortage of shops on the market, which offer this type of guns. The most important thing here is this, that each of us can purchase them, because we don't need any permission for them. The only thing we need to buy them is an ID card. Today we distinguish several types of such weapons. In this regard, let's look at each of them.
Spring air guns.
First, let's take a look at spring airguns, so as the name suggests, such, which require stretching the spring to fire a shot. Their advantage is the low cost of operation, because we do not have to buy gas cartridges to eject the shot.
CO2 air guns.
Such an air rifle gun has a gas drive. One cartridge of carbon dioxide allows you to donate from 50 do 70 shots depending on the weapon model.
Windbreakers push-ups.
This weapon is also known as a push-up weapon, and all because, that the shot is fired here with air. These are compressed before shooting with a few movements of the lever, located under the barrel.
PCP air rifle.
Highly accurate and technologically advanced air rifles, in which the shot is fired through compressed air, which is located in the tank under the barrel. If we had anything to recommend, then this air rifle gun will be the best.