Vegetable Salad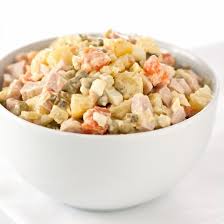 It's a bit like this with this salad, like with bigos
- each housewife does it differently
and also uses ingredients,
which he has at hand and which he prefers.
Some housewives can not imagine
vegetable salad without onion,
or a hard-boiled egg,
or canned peas.
I gave up these additions a long time ago
and I make the vegetable salad my own way,
obtaining the effect of a velvety taste!
Of course, the base for this dish is cooked
Italian, preferably in broth,
because then the taste is more interesting.
Another important ingredient is potatoes,
which I cook in my uniform.
And with them I start preparing the salad.
When they cool down, I choose, I cut into cubes,
I put it in a bowl and cover it with quite a lot of olives,
I sprinkle marjoram on it, vegetta and add some thyme
- I mix and ... let them stand with these spices.
Then I start cutting the carrots,
parsley and celery, pickled cucumber (no peel)
and apples (also without peel).
Sprinkle the chopped vegetables with a small amount of curry,
pepper and mix with a little mayonnaise.
Finally, I combine the potatoes with the rest,
without regretting the chopped parsley.
This salad is really delicious and easy to digest.