Construction of the camp latrine
The latrine should be dug from the leeward side of the tent. Cover the bottom with soil after each use. Do not use any chemicals, as they inhibit the natural process of decomposition of faeces. In addition, the stench they cause can be much more annoying and intense than the usual smell. On the side of the latrine, designate a separate place for urination and mark it with a stake. Cover the ground with dirt when closing the camp.
A makeshift toilet
Building a latrine is necessary during a longer stopover or when several people live in the camp.
A woven branch wall covering the toilet. String stretched for safety along the edges of the latrine. Logs stacked from the side, which the latrine is used for.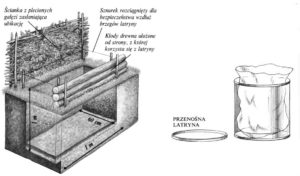 CANNED NECKLACE
If burying manure is inadvisable or not allowed, make a potty out of a coffee can with a removable plastic bag liner inside.
Pour a disinfectant into the bag, to neutralize the smell.