European Arms Charter.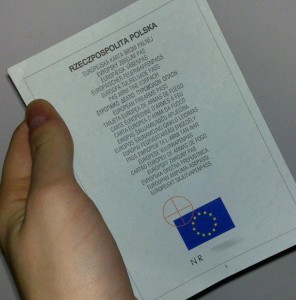 The European Firearms Charter is a document, which was supposed to make it easier for shooters to move with their weapons within the territory of the European Union. For example, going to a shooting competition.
After the latest amendment to the BiA Act, black powder shooting enthusiasts have been "motivated" to some kind of registration of weapons - by developing the European Weapon Card, without which the purchase of ammunition, or more precisely, the propeller itself in the form of black powder is not possible. Of course, no one is forcing you to register, the purchase of the weapon itself is also possible without any formalities and permits for all adults, but for many people a handicap with the purchase of gunpowder, and maybe also the need to go abroad with the weapon in hand decide on the development of EKBP.
Today we provide you with a simple model application for the EKBP. Caution! This pattern focused on split-charge black powder weapons manufactured prior to the 1885 a year, and its replicas (without permission).
In our sample application, the person submitting the application has provided the required information, and added to it 2 attachments. The first is a proof of payment of stamp duty in the amount of PLN 105, the other is one format ID photo 3 x 4cm. The stamp duty is paid to the account of the city office, where the Voivodship Police Commander is located, do którego adresowane jest podanie. Wniosek składamy do WPA Komendy Wojewódzkiej Policji tego województwa, in which the applicant has permanent residence. If we apply for an EKBP for several weapons, we must change the formula accordingly.
Application for a European Arms Card.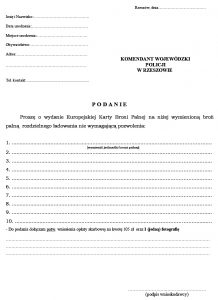 Application for a European Arms Card (for permission).