Cabbage soup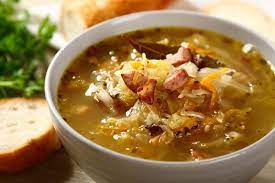 I like the cabbage soup the most
cooked on pork skins.
There can also be a knuckle - even better!
Both pork knuckles and skins
they have to cook for a long time.
And long-boiled cabbage also gives
unique taste sensations.
So a combination of these two ingredients
guarantees culinary success.
Cabbage, depending on whether it is
very sour, or not - I press the juice.
Then I cut it and put it in the pot,
in which they have been thrashing for over an hour
the aforementioned skins,
or knuckle.
I rub some carrots,
but not too much repair,
I'm adding allspice,
bay leaf,
a pinch of ground ginger,
a pinch of ground nutmeg
and two, three cloves of garlic.
I cook it all for an hour more.
I cook the potatoes for the cabbage soup separately,
in a little water
with the addition of butter and vegetta.
When the potatoes are soft,
I pour it into a pot of cabbage
and the cabbage soup is ready!