Pork neck a la Father Grande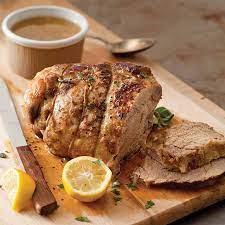 I found this recipe in the book by Fr.. Grande
"Recipes for a healthy life" and I share it,
because the meat made according to this recipe is excellent!
The bottom of a large heatproof dish
we cover with bacon slices,
pour in two tablespoons of olive oil,
on it we put cabbage leaves,
which should be scalded beforehand.
We put the pork neck on it,
cover which we cut into slices
vegetables, that is, a carrot, potatoes
and onion.
You can also put apple quarters.
Sprinkle with salt, pepper, cinnamon
and a small portion of juniper fruit.
Bake covered until tender
- you can water the meat during roasting
a glass of white wine.
Such a roasted pork neck tastes great
both hot,
and cold, sliced.