Cucumber soup.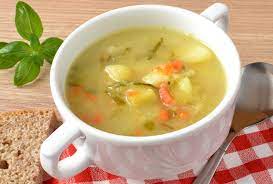 The secret of the cucumber soup is this,
that you need to use it to prepare it
not only pickled cucumbers,
but also cucumber juice.
So taste first:
maybe yesterday's broth,
it may be the flavor of the pork chops
as well as a stock cube.
Grate the cucumbers and their skin on a grater
and cook to taste, until I'm soft,
at the end, add the aforementioned juice
and cook together for a while
adding salt or vegetta to taste,
pepper, garlic and cream with cream.
In a second pot, in a little water
we boil the diced potatoes
with vegetta or broth cubes and butter.
When the potatoes are soft
we pour them with water, in which they cooked,
into a pot of cucumber.
Caution! The right acidity of this soup is important
- we regulate it with cucumber juice.