BM21 Degree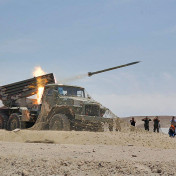 The word "Cow" has a very ominous connotation for Warsaw residents ... it is a colloquial term for the German six-lead rocket launcher "Nebelwefer" cal 150 mm, których to hitlerowcy używali podczas Powstania Warszawskiego. The terrifying sound of rockets taking off, and caused the enormity of losses caused by their use to our beloved city, that even now, after so many years in the still living participants of those dramatic events, at the mention of this weapon, tears appear in their eyes.
U sowietów idea użycia artylerii rakietowej podczas II wojny była intensyfikowana i rozwijana za sprawą całej rodziny wyrzutni rakietowych popularnie nazywanych Katyushami. Massive rocket and artillery fire from enemy positions, practically in front of every major tactical move of the Red Army, w walny sposób przyczyniły się do torowania sobie march on Berlin i ostatecznego rozgromienia hitlerowskich Niemiec.
During the Cold War in the Warsaw Pact, the concept of the so-called. large battles - clashes of entire division unions with the massive use of armored weapons, mechanized infantry supported by the massive use of aviation and artillery. In the bold assumptions of the staff of the University of Warsaw, NATO's armies were to be pulverized in a few weeks, and the so-called. "Free world", they were supposed to be under a red shoe. For the needs of this modern battlefield, based on the experience of the last World War, in 1960, the Soviets introduced the BM21 rocket launcher to their armaments "Grad". Sit consists of a 40-rail rocket launcher 122 mm with a range of fire over 20km. M21-OF rockets weighing over 60 kg, are armed with warheads filled 6,5 kg with hexogen mixture, TNT and aluminum powder, which results in an excellent fragmentation - demolishing action. The rockets are fired electrically, there is a possibility of single or volley shooting. The crew is usually from 4 do 6 soldiers. The launcher is usually mounted on the frames of Ural trucks, Star, or Tatra, which increases its mobility and maneuverability. To właśnie za sprawą tej broni w USA i NATO w 1980r podjęto decyzję o wyposażeniu wszystkich żołnierzy wojsk lądowych w tzw. PASGT (Personal Armour System Ground Trops) - anti-fragmentation kits consisting of a vest and a helmet made of Kevlar. The BM21 Grad was used during the Iran-Iraq War by Saddam's troops, during the wars in the former Yugoslavia, Chechen wars and more recently in Georgia. The launcher itself is relatively easy to destroy - it is vulnerable to fire from small arms, grenade launchers, grenades. The problem, however, is the fact, that individually these launchers practically do not operate - they always operate deep within the grouping of their own troops, which makes it much more difficult to approach and destroy. Skutecznym sposobem wydaje się prowadzenie ognia z wielkokalibrowych karabinów wyborowych .50 BMG, destruction with the help of mine traps located along the routes of enemy transport columns, alternative (at least temporarily) - there is also killing the soldiers operating the launcher.
Therefore, I will repeat the thesis promoted by me, That każdy Polak powinien być wykwintnym strzelcem – na wzór naszej bohaterskiej Armii wrześniowej.