Potato pancakes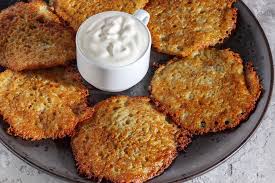 And! This is one of the finest dishes in our kitchen.
But unfortunately it is quite laborious.
We start with peeling and grating potatoes.
Some people do it with a mixer or a food processor,
which greatly simplifies the tasks!
It is also very good to grate the onion.
For grated potatoes and onions
we add the whole egg,
a tablespoon or two of flour, if the cake dough is too thin.
The consistency of the dough should be like a very thick cream.
Of course, we salt and pepper, we mix thoroughly
and with a small ladle, put the dough on the oil heated in the pan.
Fry until golden.
You can eat potato pancakes with cream.
And you can also - following the example of Hungarian dishes
- fry a large pie for the entire pan
and serve with the stew.