sour soup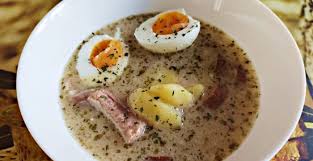 This soup can be a staple for dinner.
First I put it in a pot of water
white raw sausage and soup vegetables.
In the second pot, I boil the hard-boiled eggs.
After 15 minutes I take out the sausage,
and I cook the Italian for a while longer, to be soft.
Then I acidify the soup with sour soup from the bottle
(as a last resort, it may be from a purse),
I sprinkle a lot of marjoram,
a tiny pinch of ginger and two,
three cloves of garlic.
I put the pot out of the fire.
Peel the cooled eggs,
I cut into quarters, I cut the sausage into slices
and I put it all in the soup.
I serve with potatoes cooked separately.
You can really get enough of this dish!