Fish in jelly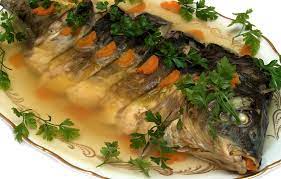 Pike perch, karp, sum - that fish,
with which we can confidently prepare this dish.
After dressing the fish, washing and drying
we cut the bell and throw it
to vegetables that have been boiling for at least half an hour.
There should be little water in the pot, so much
to cover vegetables and fish.
If we bought whole fish, that is, with the head,
we also put it in the pot.
We throw in a few raisins, a pinch of ginger,
pepper, salt and a tablespoon of honey.
We cook all these ingredients together
no longer than 20 minutes.
After cooling, strain and separate
- gently, patiently -
fish flesh from the bones,
placing the cleaned pieces on a dish.
Carrot pieces can be added for decoration
and parsley, some parsley foxes.
Nicely arranged on a platter
Pour over the fish pieces with the strained broth,
covering the whole fish.
You need to add a little gelatin to the broth,
then we will be sure, that the jelly will run off.
Then in the refrigerator for at least two hours.