Tomato soup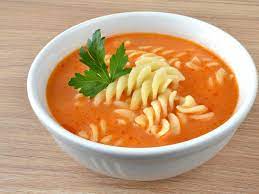 Who doesn't like tomato soup!
It is a favorite soup even of young children.
We use the broth flavor,
to which we put the fried,
peeled and chopped tomatoes.
Fry them in olive oil with a teaspoon of butter,
until they are mushy.
Then we spread this pulp a little
amount of broth and pour it into the broth.
It wonderfully raises the tomato flavor
garlic and a small amount of thyme or basil.
It can be served with dumplings.
The dumplings taste great with tomato sauce.
It can also be served with rice cooked separately,
I, on the other hand, cook the rice in the soup.
It is then more dense.
If we don't have fresh tomatoes
we make tomato soup from concentrate.
It is much tastier,
when the concentrate is fried,
just like tomatoes, on olive oil with butter in a pan.