How to choose a hunting knife for a survival expedition.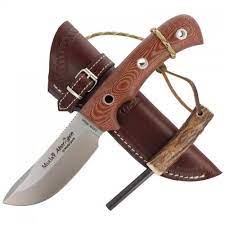 So it happened, we are going on a survival expedition soon, in order to experience many strong adventures. One of the pieces of equipment, which we should take with us, there is a hunting knife, which will save us in many difficult situations and help to slightly improve the quality of life in a remote wilderness. Here are some practical tips, what should we pay attention to when choosing a knife.
First of all, functionality.
The hunting knife will be useful for cutting smaller branches and for obtaining wood, which we will later shape according to its intended use. Fence? A makeshift weapon? The skeleton of the hut? The knife will be irreplaceable. However, there is a problem, a longer knife blade means more possibilities, but also bulky, making it difficult to travel longer distances. On the other hand, having too short a knife, we can dream of cutting down useful branches. The perfect length of the blade, which is the golden mean, it's a compartment 7-13 cm.
Folding or fixed blade?
This is another problem, the folding blade takes up less space and is useful on longer trips to look for food such as e.g.. mushrooms or fruit. A fixed blade knife takes up more space, however, it is more durable, easier to clean, and also safer, when we put it in the vagina. The folding blade can decompose spontaneously and hurt you severely.
How much will we pay?
The cost of a good and practical hunting knife is in the range of PLN 70-200. We can also buy more professional knives for a larger amount, but let's remember, that on survival expeditions, handy things tend to get lost. If we know, that we will be in frequent movement during the trip, let's not overpay.