Lard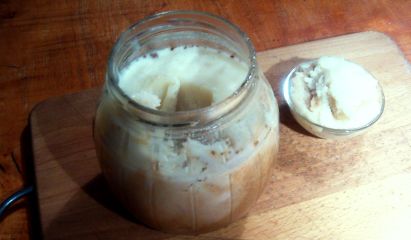 Can lard not be an elegant snack?
Maybe!
It is served in many restaurants
waiting for basic dishes.
I also know wine bars, in which the attraction is
lard served with red wine
on dark bread.
So we can boldly give you a bowl
with a lard on a well-set table.
Lard is a simple dish,
although requiring certain skills.
The basis of the lard is, of course, the lard
and it is not forbidden to buy it in some booth
butcher's shop at the nearby bazaar.
Patiently cut the pork fat into small pieces
the cube and throw it into the pot
- I recommend frying the lard over low heat.
When the white fat starts to brown
and resemble gold scraps,
pour a handful of marjoram,
finely chopped onion and crushed garlic.
Some people like to add a grated apple
- preferably a gray renet.
We heat all these ingredients yet
three minutes and pour the liquid lard
best for a jar or a clay pot.
If it is not very big and aesthetic,
it is in it that we can serve lard on the table.