Potato flank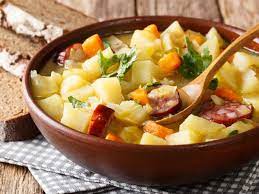 My beloved soup on duty,
that will never fail,
there is a potato soup.
Peeled and diced potatoes
I put it on boiling water
and during this time,
when they cook with a teaspoon of butter and salt,
I cook in the pan
finely chopped onion and a clove of garlic.
At the end of frying I sprinkle some onions
and garlic with marjoram
and fry everything for a while longer.
When the onion turns gently golden,
I throw in the contents of the pan
for boiling potatoes
and I cook together, until potatoes
I'll be almost overcooked.
You can whiten the potato with a tablespoon of cream.
Sometimes I make this great soup
on a stock cube
or I add vegetta instead of salt.