UZI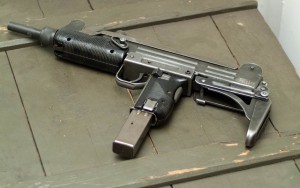 A conviction has become established, that a strong country is so, which has its own, well-developed arms industry - this is true. When the war broke out, as it has been experienced many times in history, alliances remain paper, supplies of equipment are negligible or nonexistent, in general, a bogus embargo is often imposed in conflict-affected areas, which escalates even more towards contraband by the criminal underworld.
Independence from external supplies, availability of domestic raw materials, and the most simplified construction of small arms (so that it can also be produced under conspiratorial conditions) it's advantages, you cannot argue with, perhaps Israel is a striking example of this, which like South Africa, Poland, Serbia or South Korea. it has an unfavorable layout of borders, which favors conflicts with neighbors ... Today I am going to write to you about a war time pistol - an almost cult product, namely about SMG UZI. In this construction, a very small number of mechanical parts can be singled out, a lathe is enough to produce them. Powder gas discharge system, in which the projectile is launched, and the zipper continues to move forward contributes to its weight (the uzi lock weighs half the weight of a classic trigger lock) The slide in this design also protects the shooter in the event of the cartridge bursting in the chamber. The magazine inserted directly into the handle causes instinctive operation even at night, smoke conditions etc., and certainly placing it in the handle gives it better support and failure-free operation. Magazines can be joined together at right angles, which greatly increases their quick exchange and provides access to ammunition within the weapon. Magazines with a capacity 25 i 32 pcs. ammunition, built to be missiles 9 mm PAIR placed in them arranged at a slight angle when entering them into the cartridge chamber, which helps to avoid jams. The weapon has two fuses - a classic sliding one in the A configuration(AUTOMATIC), R(one shot), S(protected), located behind the trigger on the left side of the handle, and a self-locking gripper located at the rear of the handle (quite a pain in the ass) The zipper tensioning mechanism is located on the top, which is important for leftovers (as I),quite a lot of weapons, because when loaded it weighs 4 kg, fires from an open breech with a rate of fire 600 strz./min. Standard versions with metal stock available, and a wooden one, The MINI UZI version for Israeli special forces in production from 1982 year, is characterized by a lower weight compared to the standard version (the 1kg), and length (about 15 cm shorter) and higher rate of fire (950shots / min). The stock in this model is unfolded to the right side of the weapon, not down and back as in the regular model. There are also closed-bolt versions of this weapon, MICRO UZI version even smaller and lighter (do 2kg) with a rate of fire of up to 1250 strz./min., also produced in .45 ACP - then with a capacity 16 cartridges in the magazine, version of the UZI PISTOL - it's just a micro UZI with the option of single fire, equipped with a magazine 20 cartridge type in a crankless arrangement, and UZI carbine - a classic Uzi with a barrel extended to 50 cm and a version for single fire only. In practice, I was a user of UZI and Mini UZI for three years - the above description confirms the advantages and disadvantages of this weapon, it is definitely a straight pistol, confident in action, resistant to the hardships of service - suitable for special operations as well as any other, relatively modern, PM. It has disadvantages, even such as a large weight, grip fuse (it is generally glued permanently with tape), the bolt tensioner flying in front of your eyes does not make it easier to aim, and the unit price of the weapon is quite high.
Despite this, the SMG UZI is, in my opinion, a model example of a war time weapon.