Dressing the crab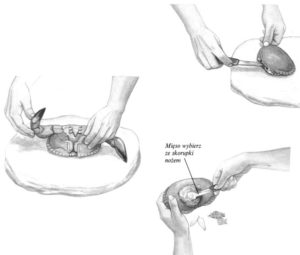 When collecting crabs, watch out for their claws. Large species can be tied with tongs, lest they fight and destroy each other. Kill them by throwing them in boiling water.
1 Make crabs very carefully and thoroughly, to remove all poisonous organs. First, twist your legs, starting from the back, ending with great tweezers. All legs contain edible meat.
2 Open the shell by inserting the knife tip between the two parts and twisting the knife.
3 Remove the stomach, green substance and both gills, because they are poisonous. Choose shell meat. Crush the tongs and use a knife to gouge out long leg muscles.