Su-25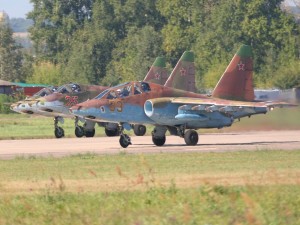 As promised, I will present these types of Russian weapons in periodic episodes, with whom we could meet in the event of an invasion of our country by the forces of the Polish Army. Today, the "work horse" of the Federation's aviation, i.e. the Su-25 plane.
Sukhoi 25th is a single-seat, a subsonic machine created by the Soviets in the late 70's, as an attack aircraft intended for direct support of the battlefield. In the NATO nomenclature, it is referred to as the FROGFOOT code.
It is a typical "flying tank" - the structure of the pilot's hull and cockpit is heavily armored. The plane was tested during the Afghan War, where he proved to be very effective in fighting the Mujahideen; the precipitation ratio (mainly due to the American AIM Stinger kits) for successful missions, was very beneficial to the Soviet side. The design has been constantly improved over the years of production, , among others, versions with increased load capacity of the transferred equipment were created, for night activities, and for take-offs from aircraft carriers. As a curiosity, one should add the fact, that the Su-25 is one of the few machines in the world, can safely operate from ground-based airfields. However, its biggest advantage is the fact, that it has the ability to carry as much as four and a half tons of weapons suspended on ten wing knots (e.g. 8 half a ton of bombs each). To, plus a fixed hull cannon cal. 30mm, form from Suchojo 25 a kind of king of destruction during the raids on cities, urbanized clusters, housing estates, etc.. As I mentioned at the beginning, the plane is resistant to the fire of small arms. The machine successfully landed in Afghanistan, which showed over 150 traces of gunshots. The fact of "armor", as well as a decent radius of action (about 680 km) at medium speed 850 km / h, make the Su-25 the basic military aircraft of the Federation.
So in line with the assumption, on the need of the article, we have to choose what means of combat are most desirable in destroying these machines. Both the Afghan conflict (40 lost machines) as well as the war in Georgia of 2008 (four downs), unequivocally demonstrated the effectiveness of the Stinger type portable anti-aircraft systems, Needle, or our Grom. Fired practically from anywhere in the "herd" (several shooters with launchers simultaneously), give you a chance to successfully hit machines flying low. Such kits are a proven, predisposed means of fighting against SU-25.